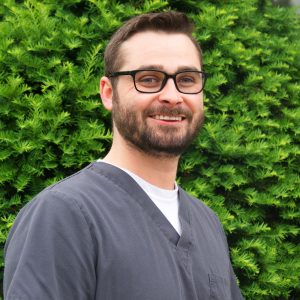 Gregory Butler, DDS, is a native to Auburn, where he was a DeKalb High School graduate prior to attending Indiana University – Purdue University Fort Wayne. There, he received his associate in chemistry and a bachelor's in biology. In 2014, Dr. Butler completed his Doctor of Dental Surgery degree at the Indiana University School of Dentistry in Indianapolis, Indiana. He is a member of the American Dental Association®, the Indiana Dental Association, the Isaac Knapp District Dental Society and the Butler Rotary Club.
It is Dr. Butler's goal to be part of a team-based practice that is focused on providing exceptional care while also maintaining a compassionate, relaxing environment for your whole family. Our office is state-of-the-art, allowing us to meet everyone's needs on an individual basis. Dr. Butler and his staff constantly stay up to date on continuing education, HIPAA and infection control protocols.
In his free time, Dr. Butler enjoys camping, biking and sailing. He also loves spending time with his dog, Harvey, and is involved in the Auburn Cord Duesenberg Festival in Auburn, Indiana where he enjoys driving his one of a kind antique 1916 Auburn "Chummy" Roadster.